NOT YOUR
AVERAGE
PHOTOBOOTH
IT'S A MIRROR THAT TAKES PICTURES!
The search is over. This is the second most important thing you'll need for your event.
​
You touch the mirror to start your journey:
​
Right away, it magically invites you to pose for a picture, as if it has suddenly become self-aware. Through hi-tech wizardry, it combines your picture with the event logo, as well as hi-tech digital props (yes, we have props, and it's hi-tech!), and sends it back to you through text, email, and print.
Now you'll go home talking about what a fun and magical time you've had, and see your picture proudly displayed on the fridge for eternity!
Magic is best when it happens in your hands... LITERALLY.
MAGIC MIRROR

PHOTO BOOTH
IS BROUGHT TO YOU BY:
PICTURE IS WORTH
A THOUSAND WORDS
Take home more than just a "thanks for coming"! We will help you put together a night to remember with a custom design photo layout that reminds them of you.
A ONE OF A KIND PHOTO BOOTH
There is nothing quite like it! Taking everything that is in a tradition photo booth, and package it into a uniquely interactive experience.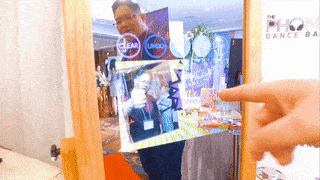 AN INTERACTIVE EXPERIENCE
Simply put, it's like going to the arcades in the good old days! This interactive experience will put the fun in your hand guided by an ever so entertaining booth attendant!
FIND OUT HOW OUR
MAGIC MIRROR PHOTO BOOTH WILL CHANGE YOUR EVENT!